Krieg macht Hunger.
29.05.14 11:18
80erjahrevietnamfolgenverwurstung. Aus Italien. Mit John Saxon, der immer aussieht wie der kleine muckige Bruder des bondigen Sean Connery. Jedenfalls. Soldaten in Gefangenschaft stellen virusbedingt ihre Ernährung um. Nein, sie werden nicht vegetarisch oder vegan. Wäre ja kein Italohorror, wenn die Gequälten in eine Tofucurrywurst bissen und dabei der Muckefuck spritzte, umsäuselt von esoterischen regenwaldholzfreien Panflötenklängen. Oder? Ebent. Jedenfalls reißen sie sich auch später, zurück in der Zivilisation, in der es vornehmlich Motorradrockerbanden - (ja, es gibt auch welche ohne, sogar in minderjährig, war ich damals selber Mitglied von, war noch aufregender als mit dem Moped zur Pommesbude fahren…) - , und Schrotflinten und Supermärkte gibt, auch nicht weiter zusammen. Ein paar damalsderbe Splattereffekte und Saxon machen durchaus genießbare Bfilmkost.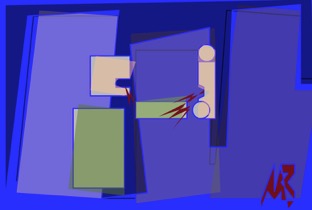 Invasion of the Flesh Hunters
aka Asphalt-Kannibalen.