Die Gewalt des Geldes.
07.02.16 13:18
Endlich dann doch mal. Und hey. So überrascht. Erinnere mich nur an schlechte Kritiken. Unsympathischer Typ. Tons of Geld und Sex und Drogen.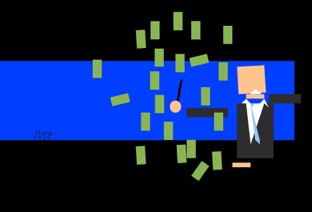 Aberaber. DiCaprio - den ich immer noch häufiger nicht mag als doch - liefert eine brilliante Performance ab, die ich an die guten alten Zeiten von irgendwo in Iowa erinnerte. Und Hill. Und McConaughey, Dessen Name ich immer googlen muss wegen der Schreibweise. Und Dujardin. Und so witzigschwarzböse, das. Noch böser, weil ziemlich real. Also eigentlich doch nicht so erstaunlich, dass Bösebankerfilme beim Publikum schlechter ankommen als die üblichen auchnichtsanften Bösegangsterfilme. (Ja, zwei drinne Pleonasmen). Jedenfalls. Geohnejobbter Investmentbanker hat eine gute Idee und pennystocks sich in den Reichtum und tut ansonsten all das, was alle Gangster tun, die zu viel Geld haben. Sehr cool. (Der Film). Einer der besten Scorceses für mich.
The Wolf of Wall Street.