So Superheldentestosterondüster.
18.04.16 21:23
Dunkel. Ein Film wie ein schwerer Samt, wäre er ein Stoff. Etwas gestückelt, um der Leichtigkeit willen. Verbissenene Superhelden.Mit schlechter Laune. So over the Top. Pathetisch, heldig, wagnerianisch. Grübele immer noch, ob das nun eine gute oder eine schlechte Besetzung ist. Eisenberg als irrer Relieve, heathledgerig, aber in light. Ok. Wirklich. Mit passender Frisur. Düstere Farben, was passt, 3dmässig. Große Optik. Mit einem herrderringegigen Kryptork. Naja. Und Wonderwoman. Hey. Und mit links Popcorn (aber meistens vergessen, zu essen, die, mit Hektik am Abspann). Und Tortillachips rechts. Und vergessener 3dBrille. Und trotzdem nicht unzufrieden.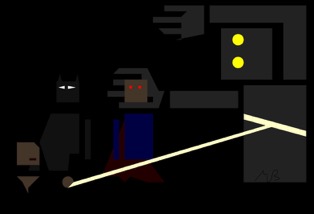 Batman v Superman: Dawn of Justice.