Allezeit bereit!
31.10.15 13:00
Freitags. Mit Freitagsstimmung. Und Freitagsenergie. Geschwächte Widerstandskraft. Gegen pubertäre Witze. Musste wirklich lachen. Ein paar Mal. Passiert mir selten. Wirklich. Aber es gibt hier ein paar wirklich orginellbescheuerte Einfälle. In dieser Zomcom. (Das Lachen verging mir dann aber. Als ich den Trailer sah. Hinterher. Der nun wirklich ein paar überraschende Momente totspoilert.) Jedenfalls. Drei Pfadfinder. Eigentlich zu alt dafür. Weil irgendwann uncool. Aber hey. Haben dann doch wirklich was zu tun. Mit Zombies. Möpsen. Katzen. Trampolinen. Und es gibt eine nette Dame aus dem Stripclub gegenüber. Und eine Paaaaarty. Dann. Yup. Nicht wirklich neu, alles. Aber liebevolllustig. Gut getimed. Macht Spaß. Total. In der richtigen Stimmung.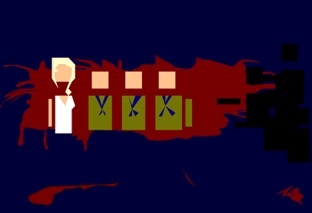 Scouts Guide to the Zombie Apokalypse.
Aka Scouts vs. Zombies.