Blind. Und Witwe. Und Gold.
16.11.14 20:28
Wieder Magnet für einsame Frauen… Mit Koteletten. Und Masseurbegabung. Und mit Trotzdemgeldstückchenhalbiererfähigkeit. Und einer Fledermausorientierungspfeife, und einer Kiste Gold. Manchmal denke ich, dass man vielleicht auch so beliebt wäre, wenn man eine Kiste Gold hätte. dann könnte man ganz viele Handtaschen kaufen und verschenken. Oder Filzmützen. Koteletten gingen auch noch. Und die Masseurbegabung. Für Calendulamassageöl würde das Geld ja noch reichen. Aber blind? Und die Klamotten? Eher nicht. Egal. Seufz. Zurück zum Film
.
Andere interessiert das Gold auch. Und eine Frau will sich rächen. Und Widerständler und arme und dumme Bauern - ja, wie bei The Man who lies - gibt es auch. Wird nicht langweilig, zuzusehen.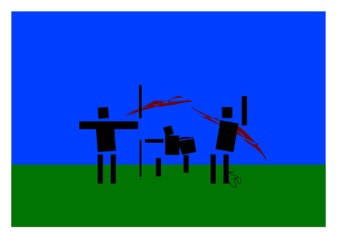 Zatoichi and the Chest of Gold.