Eine Menge Arme.
11.10.13 16:28
Nein. Kein Beitrag über die aktuelle Situation. Kein Beitrag über die verdammte Wut über Zufrühinsbettgehenmüssen. Anderer. Weil sonst die Heizung zu viel kostet. Nein. Kein Beitrag dazu, dass man da manchmal nix tun kann. Wäre aufdringlich. Untauglich. Anmaßend. Unpassend. Keine Quasi4.julieinladung. Kein Beitrag über des Keineigenesbierkaufenkönnen. Über vorgetragenes Scheingewolle. Über Kommunikationsarkasmus, empfundenen. Nein. Nur einen Film gesehen. Über Wrestler. Wie gestern. Aber hier anders. Japanisch. Und hey. Wie bekloppt klingt das. Tintenfisch wrestelt. Und ein Oktopus. Und ein Kakerlak oder was auch immer. Mit Gummianzugwrestlerdarstellern. Japanischen. Aber hey. Verdammt mehr Herz und Einsicht und Gefühl und Moral und Gehirn als alle deutschen Filme in der letzten Zeit. Ok. Die ich gesehen habe. Mit Sätzen wie :"You want advice. But deep down you know the answer". So Kitschigstandart. Aber hey. Ungemein erfrischend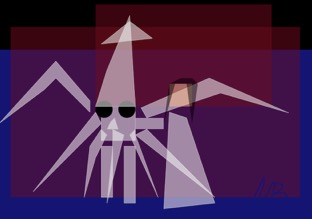 in diesem Kontext.
The Calamari Wrestler.


Danke für den Tip, nogomedia.de.